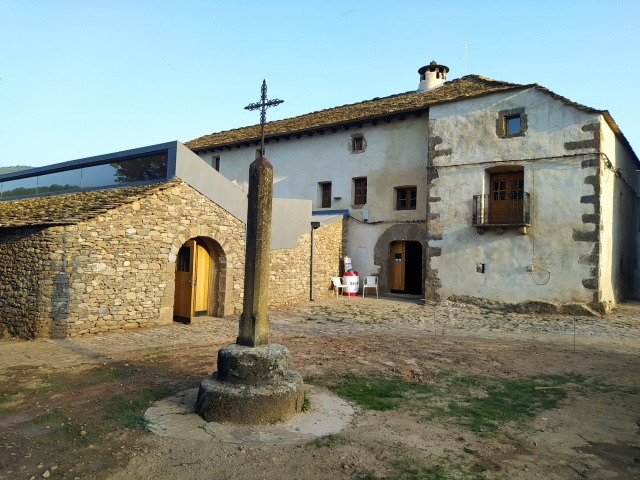 © ENTREPYR
Nocito "Casa Lardiés"
931 m
Refuge has a year-round manager
"Casa Lardiés" is the familiar name of this old traditional mountain house, currently rehabilitated as a mountain refuge with accommodation for 40 people located on the north side of the Guara Natural Park.
It maintains the traditional construction characteristics of these interior valleys of the Exterior Sierras of the Pyrenees (Pre-Pyrenees), being able to visit the pantry and cellar spaces of the house, a hearth with a traditional Alto Aragón log cabin, flagstone roofs, a magnificent example of a traditional chimney. , bread oven, outdoor bathrooms on the façade, entrance patio typical of these valleys,...and many constructive and decorative details of these large mountain houses. It has a modern cafeteria with a dining room, a multipurpose pavilion and a large panoramic terrace of the Nocito Valley and views of the Tozal de Guara.
Different signposted trails run through the entire Nocito Valley and the north face of the Guara Natural Park, highlighting the GR-1 "Historical Trail", GR-16 Yebra de Basa to Nocito, GR-268 Camino de San Urbez, Camino Natural de la Hoya de Huesca, trails of the Guara Natural Park,... as well as a wide network of well-preserved old paths that link the different towns (some of them abandoned in the middle of the last century) and the spaces traditionally used for cultivation and livestock exploitation of what was a traditional economy of subsistence and mountain autarky. Nocito is the starting point for many day trips, throughout the year, with plenty of reasons to visit it in every season of the year.
Technical spec.:
Municipality: Nocito
Property: Ayuntamiento de Nueno
Managed by: Club de Montaña Peña Guara
Phone/fax: +34 974560220
Season: Open all year long
Capacity : 42
Services:
Refuge with manager and with 42 places available
Shower
First aid kit
Hot water
Meal service
Blankets
Webcam
Indoor WC
Sinks
Plugs
| | | | | |
| --- | --- | --- | --- | --- |
| Prices person/night | Bed and breakfast | Half pension | Dinner | Picnic |
| Partners Peña Guara over 12 years old | €25.00 | €40.00 | €15.00 | €12.00 |
| Peña Guara Partners under 12 years old | €20.00 | €35.00 | €15.00 | €12.00 |
| Federated* < 12 years | €23.00 | €38.00 | €15.00 | €12.00 |
| Federated* > 12 years | €28.00 | €43.00 | €15.00 | €12.00 |
| Non-federated < 12 years | €25.00 | €40.00 | €15.00 | €12.00 |
| Non-federated > 12 years | €30.00 | €45.00 | €15.00 | €12.00 |