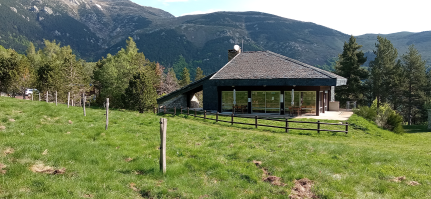 © ENTREPYR
Les Conques
1.580 m
Refuge has a year-round manager
The hut
The building was originally created in the sixties of the last century, to house the services of the ski resort "Els Forquets".
The refuge consists of a large dining room with capacity for 50 guests and a rest room. In the lower part it has a dormitory with capacity to lodge 18 people and toilets and showers, totally reformed.
Technical spec.:
Municipality: PRATS-DE-MOLLO-LA-PRESTE
Property: Mairie de Prats de Mollo
Managed by:
Phone/fax: 07 57 06 40 59
Season: April-June and October-November, OPEN every weekend. July-September, OPEN seven days a week.
Capacity : 18
Services:
Refuge with manager and with 18 places available
€
Accommodation Rates
Half board ....................... €43.50 *

Dothouse night ............................ €19.50 *

Bedding supplement ............ €3.00
* Tourist tax (0.55€) applicable to all persons over 18 years old.
Restaurant prices
Lunch ............................ €21.00
Dinner ...................................€19.50
Breakfast ................... €7.00
Picnic basket ............ €10.45